Water Removal Services Ann Arbor
Water in your basement? Rain water, sewage backup, plumbing issue.  We'll make as if it never happened within 72 hours. 
Communicate With Us In Seconds
Healthy Carpets offers a variety of services that can be used to help customers with residential and commercial water damage.
It can be very devastating to lose your property due to flooding or other damage. It is difficult enough to lose items that are personal or irreplaceable. It can be overwhelming to estimate the costs of restoration and cleanup. Healthy Carpets flood restoration water clean up services has over 20 of experience helping customers in all aspects of water damage restoration. This includes processing paperwork for your water damage insurance claim.
Our Professional Water Remediation Process
Pre-Inspect Flooded Areas (Find Water Source)
Healthy Carpets will walk through the flooded area with a thermal imaging camera.  This camera will show us where the water is all coming from.  The water source must be stopped before we can remove it. 
Remove All Furniture On Carpeted Areas
Depending on how much water we are dealing with we need to remove as much furniture pieces as possible.  At this point we should be able to tell if we can preserve the carpet and padding. 
Extract Water
Next we will use our truck mounted vacuum to extract as much water as possible leaving us with a damp carpet and padding. 
Detatch Carpet From Tack Strip
At this point we are going to remove the carpet from the tack strip, mostly in the corners.  The padding will remain under the carpet.  The padding is like a sponge and will dry from the bottom up. 
Set Up Air Movers
We will then install a whistle blower in each corner between the carpet and the carpet padding.  The main goal here is to get a blowing flag effect going on.  We want the carpet to react like a flag.   
Remove Baseboard And Drill Holes
If more than 2" of water was involved in the flood we will most likely have to dry out the wall.  To do this we will use a combination of heat and air movement.  We dry out the walls by drilling holes behind the baseboards and blow in 80 degree F air throughout the wall cavities. 
Set Up Dehumidifiers
At this point we will set up to 3 dehumidifiers to remove the remaining of the water.  This process could take up to 72 hours.  We will keep in contact throughout the 3 days. 
Re-Install Everything
After the 3 days everything should be bone dry.  We will then tack back down the carpets and reinstall the baseboard (if removed)
Flooding and storm damage
Leaking appliances, water heaters, plumbing
Overflowing toilets, bathtubs, and sinks
Leaking roofs
Thunderstorms
Hurricanes and tropical storms
Sewage backups
Flooding from firefighting efforts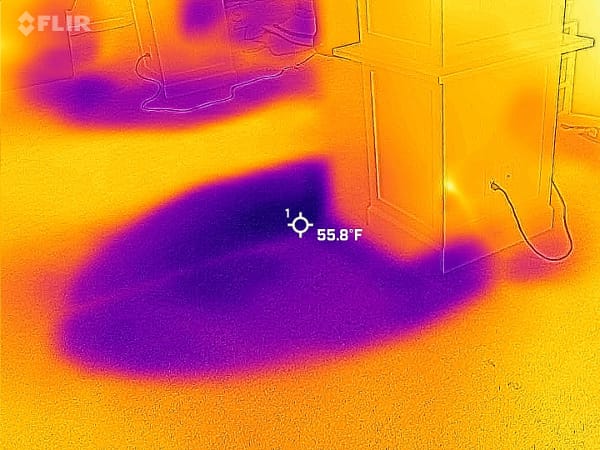 Water Mitigation Question
The Importance Of Flood Restoration Clean Up
It is not uncommon for flooding or water damage to occur in Ann Arbor. Uncontrolled water can cause severe damage. A small drip from the bathroom faucet or kitchen sink could cause a pool to form in the room, or the entire house, if the right conditions are met. The traditional classification of flood water is black water and gray water. Black water comes from outside water such as streams or raw sewage. Gray water is from inside your unit. It includes the toilet, dishwater and sinks.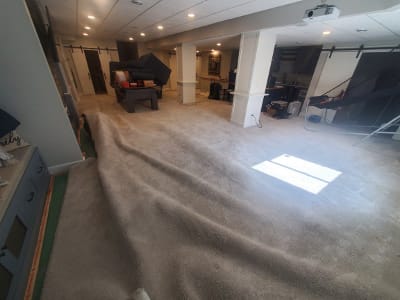 The Only Local Trusted Water Clean Up Team In The Township
How To Tell If You Need Flood Restoration Services
Visible water in a building may be the most obvious indicator of flood damage. However, there are other signs of water damage in Ann Arbor MI. Water damage can be seen in cracked foundations, rusted pipe, electric shorts, mosquitoes, and peeling wood surfaces. More signs of water damage include mold or algae growth, an increase in humidity, dampness, or stains on walls and ceilings.Healthy Carpets Flood Restoration Services of Ann Arbor has over a decade's experience and is well equipped to help you restore your home or company as quickly as possible. We understand how difficult it is to find yourself in this situation, whether your home has been submerged or your office has been burned. Healthy Carpets Flood Restoration Services will do everything possible to get your property up and running again as quickly as possible. When you trust us with your property restoration, we will give you peace of mind.
Need 24/7 Water Removal Assistance?
Call Healthy Carpets Flood Restoration Services today at (734) 224-8206.
Communicate With Us In Seconds